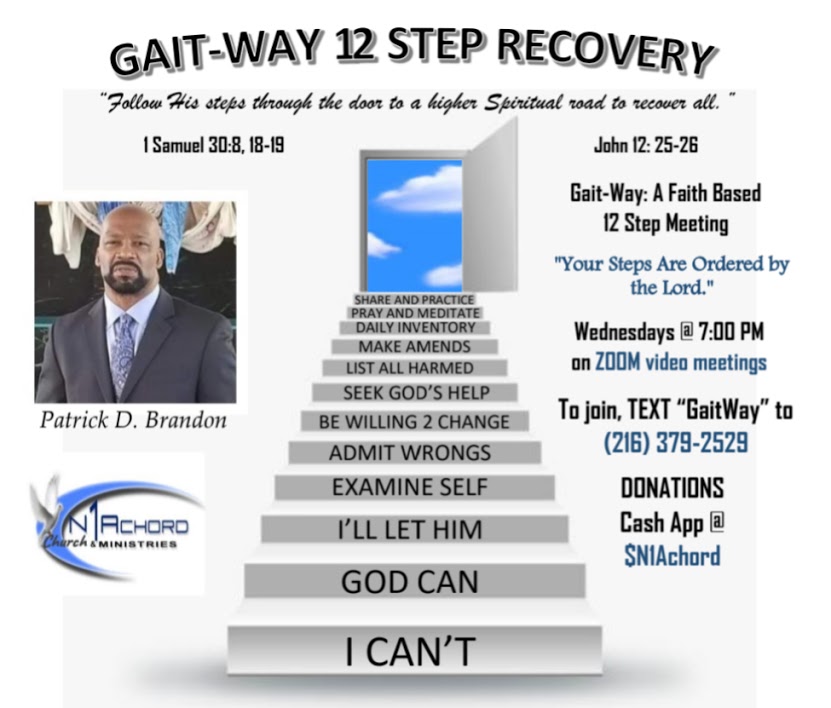 Gait-Way:
A Holistic Christian Biblical approach to 12 Step recovery
John 14:6 & Matthew 7:13-14
The 12 Steps are a practical way of life for all Christians in recovery.
2 Timothy 2:14-17
The Gait-Way mission is to utilize the Bible in conjunction with the 12 Step Recovery Program format to evangelize the Gospel of Jesus Christ and minister to the souls of those affected directly or indirectly by alcohol, substance abuse, other addictions and life's challenges in order to Spiritually empower all Christians through sponsorship/discipleship to walk the 12 Steps by His Spirit in Biblical truth healed, freely, victoriously and holy with a sober mind in Christ from the mental bondage of self in every area of life from man-made religion to worldly traditions. (Titus 2:11-15, 1 Peter 1:13-16 & 1 Corinth. 2:16)
Slogan
"Follow His steps through the door to a higher Spiritual road to recover all."
(1 Samuel 30:8, 18-19 and John 12: 25-26)
Gait means the manner or how you are walking and way means a direction, route or course. Therefore, as a Christian living in this world, we need always honestly examine our gait and our way in our walk with Jesus in following the Biblical course set before us for our predestined path of life.
How is your walk with the Lord?
Educate and improve all Christians and Non-Christians understanding of all 12 Step Programs from a Biblical perspective.

Educate and improve a Christian's walk in any 12 Step Program with God through Jesus Christ that would influence a Holy culture and lifestyle in an ungodly world.

Enhance anyone's understanding of God's plan of salvation for their soul from eternal hell to eternal life through Jesus Christ alone.

(John 14:6 & Romans 10:9-10)

Provoke and empower others to be a Gate Keeper (John 1:23) to His Kingdom by being a living witness of His Word to others by His wisdom, truth and love. (Ephesians 4:15 & James 1:5-6)
Carry His Gospel message of "true salvation" beyond the man made walls of tradition and religion of the "Program" and the "Church" to the church and un-churched. (Matthew 28:19 & Luke 14:23)
Copyright N1Achord Ministries, 2007. All Rights Reserved.